Clogged Kitchen Sink – Colorado Springs
Plumbing services has evolved from yesteryear when Draino, a plunger, and snake were employed to solve your pesky kitchen drain clogs. Technological advances now extend to drain maintenance services with tools that include video inspections and recording, self-sealing pipe materials, and hydro jet cleaning.
Leo's Sewer and Drain specializes in keeping your home's drains in top working order by providing excellent maintenance and repair services. This service includes pipe inspections and sewer and drain flushing as well as sewer repair.

Why use Leo's to solve your kitchen drain problems?
Leo's uses video technology to inspect your kitchen drains and piping allowing them to accurately determine the type of impediments that are causing your clogs. For example, waste and water flow problems could be caused by mineral deposits and sediment sticking to the inside of the pipes restricting water and debris movement.
Or, maybe your sink is taking a while to empty and Draino isn't clearing up a clog. Leo's can come in, perform a video inspection, identify that piece of chicken bone lodged in the pipe, and extract it with our special tools. Of course, if you love to be in the kitchen, you may want to schedule regular drain cleaning to avoid any future problem and the headache that comes with.
Another modern technique Leo's uses to fix and maintain drain and pipe integrity is high pressure hydro jetting. Leo's uses a wand that shoots out water at high speeds to destroy and eliminate clogs. This technique is also used to prevent future clogs by cutting through and washing away any mineral build-up in your kitchen plumbing that may stick to the inside of your pipes resulting from food waste or hard water.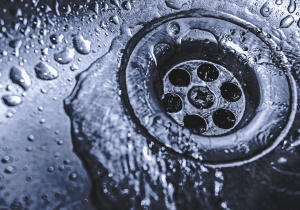 Will Leo's Sewer and Drain charge me for late night service emergencies?
No. Leo's understands that drain back-ups can occur at any time and believes their clients should not be penalized if the kitchen sink backs up at two o'clock in the morning. They are available 24 hours a day, 365 days a year.
If you call late at night you will get a live person (not a late night call-back answering service), get an over-the-phone free estimate, and we'll be at your location fast to solve the problem.