Colorado Springs Plumbing Smoke Test
What is a smoke test?
In terms of plumbing, a smoke test refers to utilizing non toxic smoke being pushed through your plumbing and sewer system to indicate holes, leaks, or weaknesses in pipes and drains.
Who can do a smoke test?
Only those who specialize in sewer and drain repair, with the required tools should perform a smoke test on your plumbing.
As your sewer and drain cleaning experts, we have the tools and experience to expertly perform a smoke test on your residential or commercial plumbing.

Why get a smoke test?
There are various reasons to perform a smoke test on your sewer and drains. You may have noticed an odd odor coming from your drains, which could be caused by a there being a weakened area of the drain. A smoke test can quickly and efficiently identify the area of concern.
Before you commit to a new plumbing project being complete, you may want to make sure that there are areas that have gone overlooked. A smoke test can find any the smallest spots that could cause major problems in the future. It is better to fix bad connections, or loose fittings before it's too late.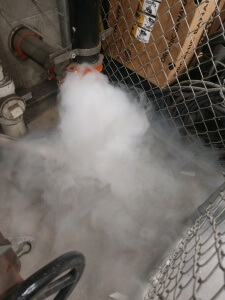 Buying a new home?
Two great things to consider when investing in a new home are getting a sewer scope and a smoke test. With a smoke test, you can find any issues before you are fully committed. This provides you the opportunity to get these plumbing issues fixed before you move in. The sewer scope also allows you extra security when it comes to knowing that your won't have to face unknown sewer and drain issues with your new home purchase.