Running and blocked toilets
Leo's Sewer and Drain Plumbing understands the frustration that comes with plumbing problems, regardless of how big or little. From major drain cleaning and excavation to access problem pipes, to leaky faucets, Leo's is ready to handle the job.
One tough job that Leo's excels at is that of handling running and blocked toilets. If you have ever been sitting in your living room and heard the sound of running water and traced it back to your toilet, you know how frustrating that can be. When faced with a problem like this, you can count on Leo's to quickly determine the reason why water continues to run long past the point of the tank filling. Not only can the sound of continuous running water prove an annoyance, it wastes water and can cause an increase in your water bill.


Having a professional like those at Leo's Sewer and Drain take a look at the problem and properly repair it can save you money in the long run. Leo's will identify the cause and fix it, preventing further damage to your plumbing system that can occur if the problem is left unresolved.
Leo's can also take care of blocked toilets that cannot be resolved with the use of a household plunger. With the proper tools and equipment available to a professional in the pipe and drain cleaning industry, Leo's will be able to diagnose the reason for the blockage and take the appropriate action necessary to release or remove the blockage, allowing for proper functioning of the toilet.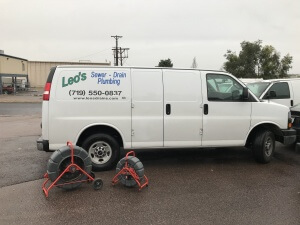 Using a professional company to tend to running and blocked toilets allows you the confidence of knowing that any root causes to these problems will be dealt with correctly. Additionally, the experience that is provided allows for the added benefit of a professional knowledge base that can ensure the existing and observable problems are not signs of a bigger problem.
No matter how big or small your drain problems are, Leo's Sewer and Drain is here to help you. For those times when you need service outside of regular business hours, Leo's offers 24-hour emergency service. For more information or to schedule an appointment, give us a call today at (719) 550-0837 and let us become the plumbing resource you depend on for all your home or business.