If you are experiencing one or more slow draining pipes in your home or at your place of business, it could be caused by tree root infiltration. Having more than one slow drain in the house is an early warning that a sewer backup is coming. Although it is true that tree roots are to blame for millions of sewer clogs each year, your sewer pipes can coexist peacefully with your trees. Everyone loves trees, and we do, too! We know that tree roots can wreak havoc with your plumbing system if allowed to run rampant, but did you know that you don't have to kill a tree to take care of a root infiltration problem? Trees are beautiful and good for the environment, so if we can help you solve a root infiltration problem without removing your trees, that's always our first choice.
Older pipes made of clay, concrete, iron, or Orangeburg (also known as fiber conduit, bituminous fiber pipe, or Bermico), are more susceptible to backups and clogs caused by tree roots than modern plastic piping, which is highly resistant to tree root intrusion at pipe joints and in many cases will last decades longer than older style pipelines.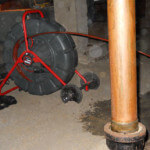 You can help stop tree root infiltration by flushing a solution down the toilet that contains root inhibiting chemicals which kill roots inside pipes, but will not kill your trees and shrubs. If it is determined (or desired) that a tree must be removed to prevent further root infiltration, the entire tree stump must also be removed to prevent roots from growing back.
You can quickly and easily manage any tree root infiltration by giving us a call. We can remove tree roots, clogs, and other obstructions professionally, using state of the art drain cleaning equipment and the best available techniques like camera inspections, without causing further damage to your pipes. If we determine that your pipeline is in salvageable condition once it is cleared of obstructions, we can help you maintain your plumbing system with regular inspections and servicing.
When your preventative measures haven't done the trick and you need a professional to come out and clear your clogged drains, call on the friendly folks at Leo's Sewer and Drain. We are happy to give you a free, affordable estimate over the phone. In Colorado Springs, call (719) 550-0837, or schedule an appointment online.