Family Owned and Operated
We can handle all your clogged drains, sewage backups and drain-related needs! We pride ourselves in providing affordable plumbing in Colorado Springs. You'll be happy with our reasonable prices, high quality of service, and quick response to your phone call.
When you experience clogged drains, we understand what you're going through. We are here to help resolve your sewer and drain problems with no hassles, 24-hours a day. At Leo's Sewer and Drain Cleaning Colorado Springs, we are NOT high-pressure salesmen. We will NOT sell you something that you do not need.
Our Drain Cleaning Process
We will take your call and get you set up with an appointment so we can evaluate the issue and provide you with an in person qoute.
We arrive quickly at your home or business to diagnose the issue. Based on our observations, we will give you a quote for the needed work.
We begin placing our drain cleaning equipment within your property, or on the outside of your home or business if you require an exterior drain clean out.
We use state-of-the-art drain cleaning equipment. We use the best available techniques to clean your drain or sewer line, including drain camera inspections.
If needed, we perform a video inspection of your sewer line and will make recommendations if additional action is required.
We remove all equipment, clean up any mess, and finalize the process as quickly as possible.
We Now Jet!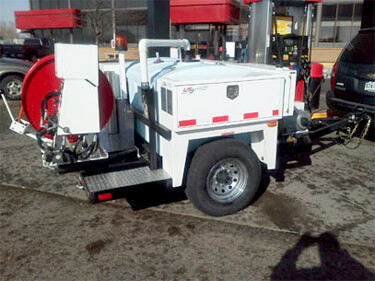 High pressure hydrojetting uses water sprayed under very high pressure to cut through clogs and flush away the debris. We feed a high pressure hose with a special nozzle on it through your sewer pipe to the location of the clog. Water is pumped through the hose and nozzle up to four thousand pounds per square inch.
The high pressure water can cut through tough clogs including grease, hair, paper products, sludge, and other debris. In addition, the water flushes the debris away down the pipe. High pressure hydro-jetting scours the entire inside of the pipe and leaves it looking almost like new! Basically we are pressure washing the inside of your sewer line, with the newest latest technologies.  We use state of the art drain camera equipment for drain cleaning Colorado Springs.
Common Drain Cleaning Problems
We often find the same issues cause blockages in your sewer or drain:
Grease and food buildup
Sanitary products
Baby wipes
Paper towels
We can clear ALL of these drain blockages with our professional drain cleaning equipment. At Leo's Sewer and Drain Cleaning Colorado Springs, you can expect worry-free service at a reasonable price. 99% of all clogged drains and sewer lines that we attempt to clean get opened without major difficulties and without requiring excavation. We never push our customers for unnecessary excavation of their property. Don't call an expensive Colorado Springs plumber for something that only a professional drain cleaner can do. Call Leo's Sewer and Drain Cleaning Services for affordable plumbing in Colorado Springs first.
Sewage Backup Prevention
Read the above list of "clogging culprits" and make sure that you do not send these objects down your drain. However, even the most cautious homeowner or business owner can experience sewage backups and clogged drains.
If you have had tree root incursion in the past, you should definitely consider preventative maintenance on your sewer line by having it cleaned regularly. In order to prevent sewage backups from becoming an issue, we recommend that you have your sewer lines cleaned once a year. It is less costly and less time consuming and prevents problems from occurring before they turn into larger issues.
At Leo's Sewer and Drain Cleaning, we have the best crew in Colorado Springs.  Contact us today for help with all of your sewer and drain cleaning issues!