Serving the Colorado Springs and surrounding area with affordable drain cleaning since 1982, Leo's Sewer and Drain Cleaning continues to strive to bring our customers the highest quality drain cleaning while using the best equipment available for our industry.
Your trusted Colorado Springs Drain Cleaner
Providing El Paso and Teller counties with local and affordable drain cleaning – while providing clients with fair prices and excellent service has set Leo's Sewer and Drain Cleaning apart from the competition. Locally owned and operated, we can often make it to your location the same day.  Offering our clients free quotes over the phone without the use of call centers and late-night answering machines, Leo's always has someone here to answer your call.
With over 30 years of plumbing in Colorado Springs, owner David Book has extensive experience in the sewer and drain business.  Learning from his father Richard Brook, David worked after school and on weekends at this Richard's Roto-Rooter franchise.  David worked closely with his father, learning how to clean drains, run camera and locators, and jetting sewer lines.  Richard sold his Roto-Rooter franchise in November 2008, after owning it for 30 years.  Shortly after this Dave started his own affordable drain cleaning and alternative plumbing business, Leo's Sewer and Drain Cleaning, as part of his family's legacy.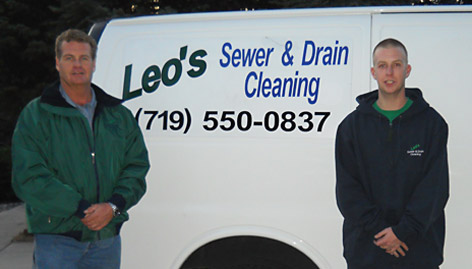 Ours is a family-oriented company, with David learning from his father Richard and now David's son starting to learn the business firsthand on nights and weekends when is not attending college.  Treating our client's like family is just good business for this family run plumbing company.