Phone: (719) 550-0837
Fax: (719) 574-0019
Email: service@leosdrains.com
If you'd like to schedule service, please give us a call or fill out the form below!
24 Hour Emergency Plumbing Services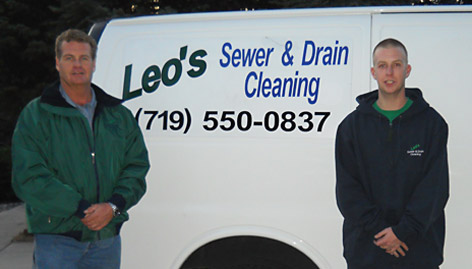 Contact us 24-hours a day for Colorado Springs Drain Cleaning. We take your call personally and can provide you with a free quote over the phone. Ask us about our Colorado Springs Drain Cleaning Maintenance Program. Don't wait till your drains or sewer lines back up. If you think you have clogged drains or sewer lines, call us today. We use the latest video technology to inspect your drains and sewer lines.
Leo's Sewer and Drain Cleaning has a 24-hour Colorado Springs drain cleaning service area encompassing the following towns and cities:
Colorado Springs
Manitou Springs
Monument, Palmer Lake and Black Forest
Security, Widefield and Fountain
Fort Carson, Air Force Academy, Peterson and Schriever AFB
Teller County locations including Woodland Park and Green Mountain Falls *
Eastern El Paso County locations including Elbert and Peyton *
Cripple Creek and Victor *
Castle Rock *
Leo's Sewer and Drain Cleaning will take service calls for remote locations, including the towns of Pueblo and Pueblo West, but we cannot guarantee same day service and a fuel surcharge may be required.
Leo's Sewer and Drain Cleaning serves the following ZIP codes:
80921, 80908, 80106, 80831, 80929, 80928, 80925, 80911, 80916, 80914, 80915, 80951, 80939, 80922, 80938, 80927, 80923, 80924, 80920, 80918, 80917, 80909, 80907, 80903, 80910, 80817, 80913, 80902, 80926, 80906, 80905, 80904, 80919, 80840, 80841, 80929, 80819
Leo's Sewer and Drain Cleaning Colorado Springs offers a full line of services for your drainage and sewer systems. Call today and discover how Leo's Sewer and Drain Cleaning can save you money on drain service and maintenance. We have more than 30 years of drain cleaning and plumbing experience. We know how to unclog your drains quickly and at a lower cost than most plumbers charge for the same service.
For further questions about our Colorado Springs drain cleaning service area, please call us or consult the following map: