Affordable, Quality Sewer Drain Cleaning in Colorado Springs
Let us provide you with sewer drain cleaning, that will only clean out your drain, and not your bank account! Leo's Sewer & Drain Cleaning can handle all of your clogged drains, sewage backups, and any other drain related needs.

As a neighborhood plumber and alternative plumbing service leader to the front range with over 30 years of experience, Leo's Sewer and Drain Cleaning can fix all of your drain cleaning needs. We honor our community with reasonable prices, quality service and quick response times. We service clogged drains, main sewer lines, excavation, and more.
Need emergency drain service on nights and weekends? Our courteous and professional staff are here to answer your calls 24/7. We are a family owned and operated business and take pride in our Colorado Springs community, and work hard for our fellow Americans.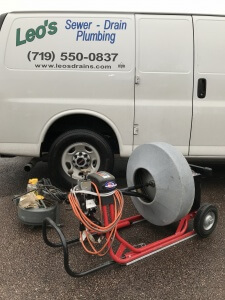 Leo's Sewer and Drain Cleaning has put years of focus into providing professional drain cleaning services to their customers. Their unparalleled dedication and experience attributes to the phrase "whatever you are, be a good one." As your local and alternative plumbing professionals, Leo's delivers uncompromising quality and pride in drain cleaning and plumbing services. Leo's will clear your blocked drains from debris such as paper towels, baby wipes, and food and grease buildup without much difficulty 99% of the time.
Allow us to be your reliable, on-call plumber available to our community. We specialize in sewer and drain cleaning, and are committed to solving your plumbing challenges efficiently and hassle-free. Leo's Sewer and Drain Cleaning services our community at more affordable rates compared to most traditional plumbers.
Before you call an expensive plumber, put your trust in professional drain cleaners who perform their job bar none—our mission is to only sell our clients sewer and drain cleaning services they need. Call Leo's Sewer and Drain Plumbing today for a hassle-free estimate!